A nightclub that has become an institution of the Berlin techno scene, also taking on mythical proportions in the global techno and house scenes. The club is a reincarnation of an earlier Berlin nightclub, Ostgut (1998-2003), which was located in the empty Ostgüterbahnhof railway shipping warehouse.
Check out the floorplan below.
Through the years, the club has been the source of many rumors and lore. Unconfirmed sources claim that the Berghain urinals are directly connected to the showerheads at Lab.oratory below. Whether this is true or not, we do not know, but for most patrons the upper floors seem more appealing.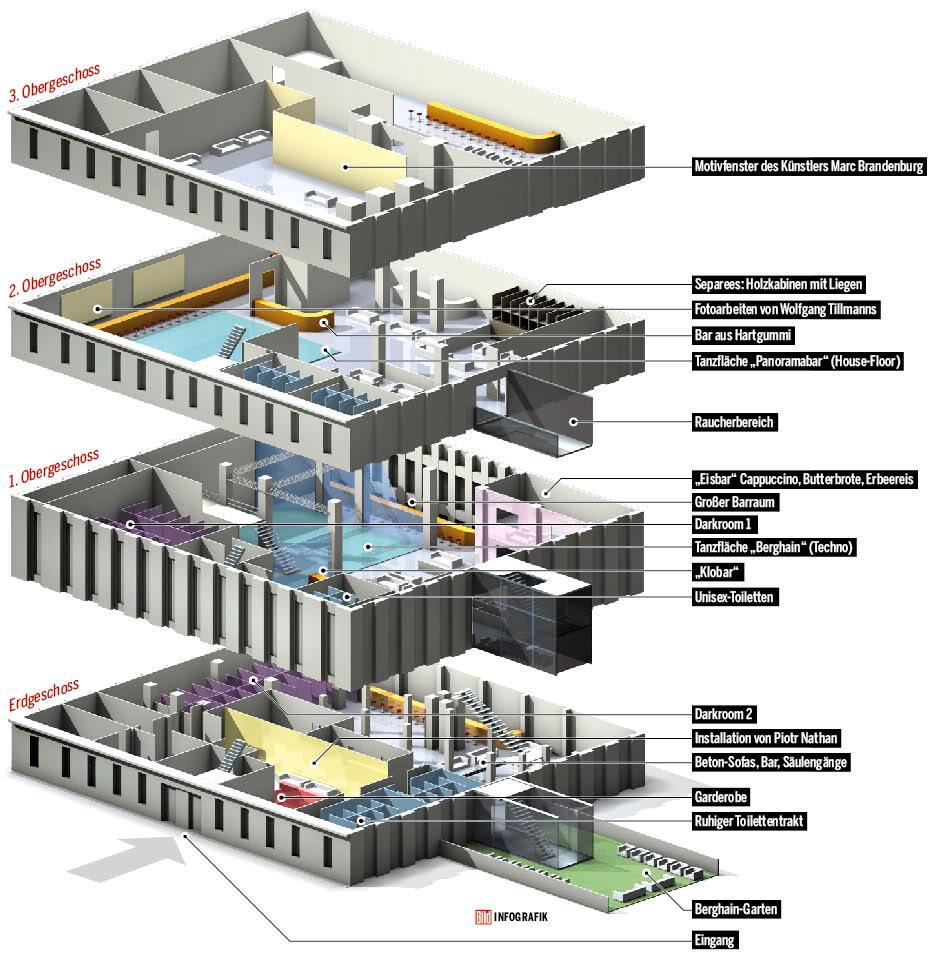 In 2005, Lab.oratory premiered in the space underneath Berghain. The fetish club, founded at Ostgut, was now brought back to life — this time in a larger space with more dark rooms, more toys, and more secrets. Here, nudity and leather reigns along with lustful imagination.
Today, founders Michael Teufele and Norbert Thormann are men in their fifties. They were never drawn to the limelight, but are still hard at work behind the scenes, where they control everything from decoration, sound and light, to DJ bookings and door policy. The rumor is, however, that Thormann's insatiable imagination is what drives the more extreme, sexually inspired evenings.
More article about Berghain:
This is how people who go to Berghain look like
Getting into Berghain… The club's door guards explains what influences their decisions at the Berlin club
28 tips how to get into Berghain
Berghain's Ostgut Ton nacht is happening at a former coal processing plant
Subscribe to our Newsletter
Gain access to exclusive interviews with industry creatives, think pieces, trend forecasts, guides and more.